Alien Vs. Predator Revisited **With Patch**
Results
:
source: Tomshardware
We can see here that the FX Windows 7 Patch brings about
+1%
in performance when compared to without it. This pushes AVP performance with a
stock 6990
above that of with an
intel 980x @ 4.0 Ghz
by
+4.3%
without AA, and by
+23.5%
with 4xMSAA. I used Catalyst 12.1b for the pre-Patch scores, and 12.1 Final Build for post-Patch scores.
For Comparison's sake we may also examine results from HEXUS.net with
Two 7950's @ 900/1250
in Crossfire and catalyst 12.1 Final Build (which is also what I used in my updated Patch FPS). This test is with a Stock
i5 2500k @ 3.6 Ghz Turbo.
It should be noted that this test is with 4xMSAA but also with
16xAF
as well, which the above test with 4xMSAA lacks - in accordance to Tom's review. So take these results with a grain of salt! (Although AF affects fps minimally in this game, while AA affects it significantly).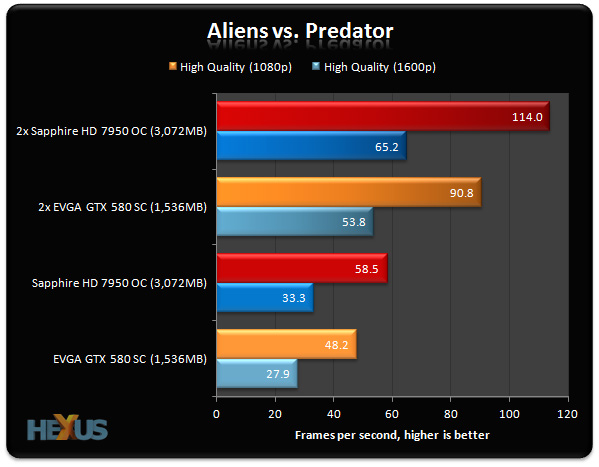 source: HEXUS
As we can see, Two
7950's OCd @ 900/1250 in crossfire
only score a measly 114.0 FPS with an
i5 2500k @ 3.6 Ghz Turbo
. Despite the fact that this test has AF enabled, the other settings and identical. My Patched
FX 8150 @ 4.8 Ghz
with
6990 @ 990/1500
scores 124.5 FPS , which is
+9.2%
higher FPS than the
intel rig
with
2 x 7950 OC
@ 900/1250
in Crossfire
.
We can also see that
FX
with a
6990 @ 990/1500
scores
+37.1%
more fps than the
i5 2500k @ 3.6 gh
z with
Two GTX 580's in SLI OC @ 797/1594.